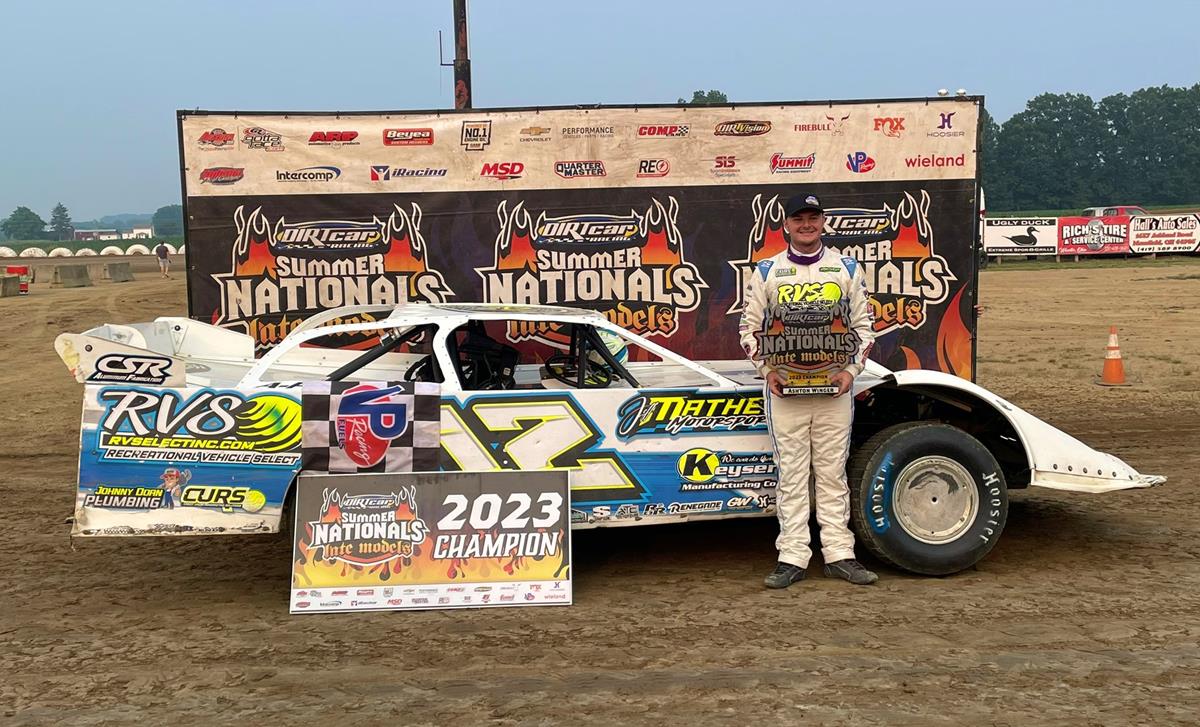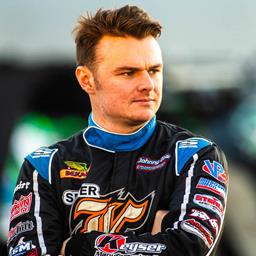 ---
Winger victorious at Oakshade Raceway; secures 2023 Hell Tour points championship
Ashton Winger triumphantly wrapped up his 2023 DIRTcar Summer Nationals campaign over the weekend in his Jeff Mathews Motorsports No. 12 Johnny Doan Plumbing / Recreational Vehicle Select / XR1 Rocket Chassis / Durham Racing Engine Super Late Model.
Winger collected the $10,000 series victory on Saturday night at Oakshade Raceway before being crowned both the $10,000 week five Champion as well as the overall 2023 DIRTcar Summer Nationals Champion.
"Man, what a ride we had in this year's (DIRTcar) Summer Nationals. We collected six wins, two weekly championships, and the overall title. My team is exhausted but man they did a great job for me for the past month," Winger said. "We're going to run the (Schaffer's Oil) Southern Nationals race on Thursday at Senoia (Raceway), and then we may race again this weekend or we may just go sit on a boat."
With Wednesday's show at Shadyhill Speedway (Medaryville, Ind.) falling to Mother Nature, Ashton Winger started off the final leg of the DIRTcar Summer Nationals at Butler Motor Speedway (Quincy, Mich.) on Thursday evening.
Kicking off the "Northern Week" of the Hell Tour, Winger laid down the fourth-quickest lap in his qualifying group before picking up the win in his heat race. Sitting on the pole for the $5,000-to-win feature, Ashton led the first 25 laps before suffering a flat with just 15 laps to go. He was scored 13th in the final rundown.
Friday's race at Hartford Speedway (Hartford, Mich.) was also lost to rain.
For the "Birthday Race" at Oakshade Raceway (Wauseon, Ohio) on Saturday, Ashton was once again victorious in his heat race which placed him on the third-row for the $10,000-to-win feature. Climbing through the field in the 50-lap feature, Winger took the top spot on lap 15 and dominated the final 35 laps to secure his sixth victory of the summer and twelfth-career Hell Tour triumph. He topped Colin Shipley, Brian Ruhlman, Ryan Markham, and Dusty Moore who completed the Top-5.
Wrapping up the tour at Wayne County Speedway (Orrville, Ohio) on Sunday evening, Ashton was second-fastest in his qualifying group and followed it up by topping his heat race competitors. With just one $5,000-to-win feature left, Ashton ran inside the Top-3 and challenged race-long leader Kyle Moore but ultimately settled for a runner-up finish.
With a second-place outing to finish off the fifth and final week of the DIRTcar Summer Nationals, Ashton earned $10,000 as he topped the "Northern Week" points standing. Completing five weeks of competition in the Midwest, Winger was crowned the overall points champion of the 2023 Hell Tour season.
Full results from the events available at www.DIRTcarSummerNationals.com.
Next on tap for the team is a visit to Senoia (Ga.) Raceway this Thursday for a $7,554-to-win Schaeffer's Oil Southern Nationals event.
For more information on the event, please visit www.SouthernNationalsSeries.com.
---
Article Credit: Tyler Carr image
Article Media
Back to News