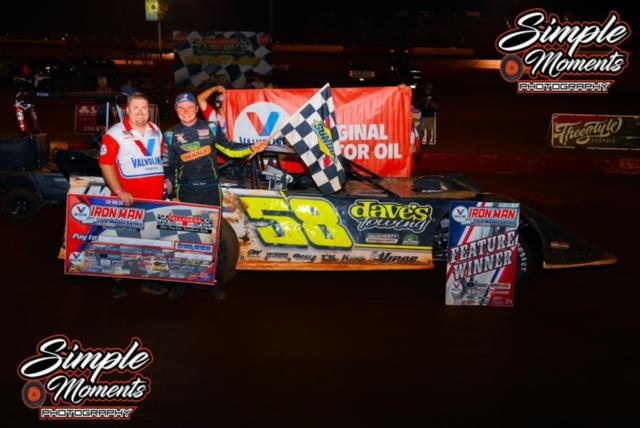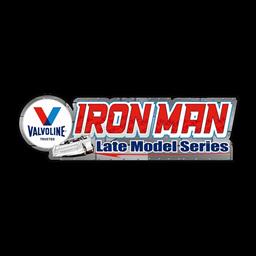 8/14/2022
Iron-Man Late Model Series
---
Ashton Winger Grabs Valvoline Iron-Man Late Model Southern Series Governor's Cup Win at Talladega Short Track
EASTABOGA, ALABAMA (August 13, 2022)– The Valvoline Iron-Man Late Model Southern Series would roll into Talladega Short Track in Eastaboga, AL on Saturday for the track's Governor's Cup event and Ashton Winger of Hampton, GA would take the lead on lap twenty-three and survive a late race challenge and caution to capture the victory and a $10,000 payday.
The win for the 22-year-old Winger would be his third career Valvoline Iron-Man Late Model Series victory and would come behind the wheel of a Rocket Chassis powered by a Clements Race Engine with sponsorship support from M and W Transport, Dave's Towing, Ocala Restaurant Supply, Big Frog Transportation, Super K Express, Keyser Manufacturing, Integra, and VP Race Fuels.
Sam Seawright would take the lead at the start of the Governor's Cup feature contest, followed by Will Roland, Ashton Winger, Michael Page, and Austin Horton. Winger would take second on lap two, while Jason Hiett would grab fifth from Horton on lap three. Page would take third on lap six, while the first caution of the event would appear on lap seven for Wil Herrington in turn three. The restart would see Seawright maintain the lead, while Page would take second from Winger, with Hiett going to fourth and Todd Morrow would now be fifth. Morrow would be challenged by Horton and Horton would take fifth. Seawright would continue to hold the top position, while Page and Winger pressured Seawright from their second and third place spots. The second caution of the event appeared on lap twelve when Pearson Lee Williams would spin in turn four. Seawright would bring the field back to green and hold the lead, while Winger would work back around Page for second, while Horton would take fourth from Hiett. By lap twenty, Winger would begin to pressure Seawright for the lead and on lap twenty-three, Winger would make his move and claim the top spot from Seawright. Winger would open a slight advantage at that point, while Page would battle Seawright for the runner-up slot, with Page grabbing second on lap thirty. Winger would catch some slower traffic on lap thirty-two, allowing Page to close in on Winger and the pair would then settle into a battle for the lead, with the duo racing side-by-side on multiple occasions. The duo would make contact on the frontchute on lap forty-four and Page would slow at the top of turn one and draw the final caution of the event. Winger would control the restart and maintain a comfortable advantage over the final few laps to score the victory, with Seawright and Horton finishing second and third, while Hiett and Morrow would round out the top five. Nineteenth place starter Dalton Cook would rally to finish sixth, while Will Roland, Tyler Millwood, fourteenth place starter Michael Chilton, and Tim Roszell completed the top ten finishers.
The Valvoline Iron-Man Late Model Southern Series will next be in action in a non-points event that has been added at Boyd's Speedway in Ringgold, GA on Friday August 19, paying $3,000 to win. The next points event for the Valvoline Iron-Man Late Model Southern Series will be at Lake Cumberland Speedway in Burnside, KY on Saturday August 27 for the 11th Annual Harold Hardgrove Memorial, paying $10,022 to win (the Northern series will also be in action at this event).
For more information about the Valvoline Iron-Man Late Model Series, please contact Chris Tilley at (828) 361-5981 or visit the tour's webpage at www.IMDIRT.net (Super Late Models) or visit the tour page Iron-Man Racing Series on Facebook and Iron-Man Series (@CTPROMOTE) on Twitter.
The Valvoline Iron-Man Late Model Series would like to thank the following sponsors and marketing partners for their support of the 2022 racing season: Valvoline, Zerex by Valvoline, Brucebilt Performance Parts, Hoosier Racing Tire, E-Z-GO, Sunoco Race Fuels, Bazell Race Fuels, DirtonDirt.com, MyRacePass, FloRacing, Impact Race Gear, XS Power Batteries, Vic Hill Racing Engines, American Racer Tires, Keltner Contracting, TW Taylor Trucking, Earnhardt Technologies Group, Swafford Signs, KY Clutch, Brown Haven Homes, Knowles Race Parts and Bodies, Coosa Heating and Cooling, SFP Performance Systems, KND Safety, Chattanooga Valley Auto Parts, Race Clean, Denby's J&J Construction, Advanced Transportation, Lowe's Tows, Reno's Roadhouse, and Racetrack Safety Initiative.
About Valvoline™
Valvoline Inc. (NYSE: VVV) is a leading worldwide marketer and supplier of premium branded lubricants and automotive services, with sales in more than 140 countries. Established in 1866, the company's heritage spans more than 150 years, during which time it has developed powerful brand recognition across multiple product and service channels. Valvoline ranks as the No. 3 passenger car motor oil brand in the DIY market by volume. It operates and franchises approximately 1,400 quick-lube locations, and it is the No. 2 chain by number of stores in the United States under the Valvoline Instant Oil ChangeSM brand and the No. 3 chain by number of stores in Canada under the Valvoline Great Canadian Oil Change brand. It also markets Valvoline lubricants and automotive chemicals, including the Valvoline High Mileage with MaxLife technology motor oil for engines over 75,000 miles; Valvoline Advanced Full Synthetic motor oil; Valvoline Premium Blue™ heavy-duty motor oil; Valvoline Multi-Vehicle Automatic Transmission Fluid; and Zerex™ antifreeze. To learn more, visit www.valvoline.com.
Official Summary of Results
Feature Results for the Valvoline Iron-Man Late Model Southern Series Governor's Cup at Talladega Short Track in Eastaboga, AL on Saturday August 13, 2022
Ashton Winger-Hampton, Ga.
Sam Seawright-Fort Payne, Ala.
Austin Horton-Newnan, Ga.
Jason Hiett-Oxford, Ala.
Todd Morrow-Penton, Ala.
Dalton Cook-Salem, Ala.
Will Roland-Jasper, Ga.
Tyler Millwood-Kingston, Ga.
Michael Chilton-Salvisa, Ky.
Tim Roszell-Anniston, Ala.
Chase Oliver-Crossville, Ala.
Ryan Wilson-Margaret, Ala.
Chris Wall-Springfield, La.
Michael Page-Douglasville, Ga.
Dylan Knowles-Lanett, Ala.
Heath Hindman-Signal Mountain, Tenn.
Pearson Lee Williams-Dublin, Ga.
Wil Herrington-Hawkinsville, Ga.
Dillon Tidmore-Gadsden, Ala.
Dallas Cooper-Talladega, Ala.
Forrest Trent-Talbott, Tenn.
Eli Beets-Knoxville, Tenn.
Time of Race: 22 minutes, 15 seconds
Margin of Victory: 3.220 seconds
Yellow Flags: Three (lap 7, 12, 44)
Red Flags: None
Lap Leaders: Sam Seawright 1-22, Ashton Winger 23-50
Entries: 38
E-Z-GO Time Trials Top Qualifier: Will Roland (Group A) 14.225 seconds
SFP Performance Systems Hard Charger Award ($500 product certificate): Dalton Cook (started 19th-finished 6th-advanced 13 positions)
Provisionals: Eli Beets, Heath Hindman
Sunoco Race Fuels Heat Race One Finish (8 laps/top 4 transfer): Will Roland, Jason Hiett, Dylan Knowles, Forrest Trent, Tim Busha, Chase Oliver, Jason Croft, Bryson Mitchell, Blake Hood, Logan Mize
Sunoco Race Fuels Heat Race Two Finish (8 laps/top 4 transfer): Ashton Winger, Dillon Tidmore, Tyler Millwood, Wil Herrington, Dalton Cook, B.J. Robinson, Eli Beets, J.R. Moseley, Adam Cotton
Sunoco Race Fuels Heat Race Three Finish (8 laps/top 4 transfer): Sam Seawright, Austin Horton, Todd Morrow, Michael Chilton, Chris Wall, Chris Jones, Brad Berry, Jason Garver, Matthew Brocato (DNS-Steve Rayborn)
Sunoco Race Fuels Heat Race Four Finish (8 laps/top 4 transfer): Michael Page, Pearson Lee Williams, Ryan Wilson, Tim Roszell, Heath Hindman, Dallas Cooper, Mario Gresham, Skip Freeman (DNS-Jadon Frame)
Impact Race Gear B-Main One Finish (8 laps/top 2 transfer): Chase Oliver, Dalton Cook, B.J. Robinson, Jason Croft, Blake Hood, Bryson Mitchell, J.R. Moseley, Logan Mize, Eli Beets (DNS-Tim Busha, Adam Cotton)
Impact Race Gear B-Main Two Finish (8 laps/top 2 transfer): Dallas Cooper, Chris Wall, Heath Hindman, Brad Berry, Chris Jones, Mario Gresham, Skip Freeman, Matthew Brocato, Jason Garver (DNS-Jadon Frame, Steve Rayborn)
2022 Valvoline Iron-Man Late Model Southern Series Schedule/Results:
January 29-Boyd's Speedway-Ringgold, GA- SAM SEAWRIGHT (non-points)
March 5-Smoky Mountain Speedway-Maryville, TN-BRANDON OVERTON
March 25-Bristol Motor Speedway-Bristol, TN-CHRIS MADDEN
March 26-Bristol Motor Speedway-Bristol, TN-CHRIS FERGUSON
April 1-Bristol Motor Speedway-Bristol, TN-CHRIS MADDEN
April 2-Bristol Motor Speedway-Bristol, TN-DALE McDOWELL
April 15-Ponderosa Speedway-Junction City, KY-CORY HEDGECOCK
April 16-Tazewell Speedway-Tazewell, TN-CHRIS MADDEN
April 30-Boyd's Speedway-Ringgold, GA-PAYTON FREEMAN
May 14-Lake Cumberland Speedway-Burnside, KY-ELI BEETS
May 29-Lake Cumberland Speedway-Burnside, KY-ELI BEETS
May 30-411 Motor Speedway-Seymour, TN-JIMMY OWENS
June 3-Ponderosa Speedway-Junction City, KY-ELI BEETS
June 4-Mountain View Raceway-Spring City, TN-JADON FRAME
July 1-Boyd's Speedway-Ringgold, GA-DONALD McINTOSH
July 2-Lake Cumberland Speedway-Burnside, KY-ELI BEETS
July 3-Tazewell Speedway-Tazewell, TN-RICKY WEISS
July 15-Ponderosa Speedway-Junction City, KY-JOSH RICE
August 6-Brownstown Speedway-Brownstown, IN-DEVIN GILPIN
August 11-North Alabama Speedway-Tuscumbia, AL-$5,000 to win (Rainout-Make Up TBA)
August 12-Duck River Raceway Park-Lewisburg, TN-SAM SEAWRIGHT
August 13-Talladega Short Track-Eastaboga, AL-ASHTON WINGER
August 19-Boyd's Speedway-Ringgold, GA-$3,000 to win (non-points)
August 27-Lake Cumberland Speedway-Burnside, KY-$10,022 to win
September 2-Ponderosa Speedway-Junction City, KY-$10,000 to win
September 3-Boyd's Speedway-Ringgold, GA-$5,000 to win
September 4-Tazewell Speedway-Tazewell, TN-$5,044 to win
September 14-Volunteer Speedway-Bulls Gap, TN-$12,000 to win
September 30-Ponderosa Speedway-Junction City, KY-$5,000 to win
October 1-Ponderosa Speedway-Junction City, KY-$10,000 to win
October 7-North Wilkesboro Speedway-North Wilkesboro, NC-$5,000 to win
October 8-North Wilkesboro Speedway-North Wilkesboro, NC-$10,000 to win
October 22-Lake Cumberland Speedway-Burnside, KY-$10,000 to-win
November 4-Duck River Raceway Park-Lewisburg, TN-$10,000 to win
November 5-Duck River Raceway Park-Lewisburg, TN-$10,000 to win
November 19-Boyd's Speedway-Ringgold, GA-$5,000 to win
November 26-411 Motor Speedway-Seymour, TN-$5,000 to win
Back to News