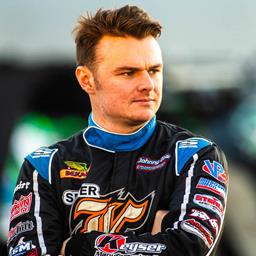 ---
Winger finishes 13th with Southern Nationals at Senoia
On Tuesday afternoon, Ashton Winger returned with the Schaeffer's Southern Nationals for the fourth round of the 12-race tour at I-75 Raceway (Sweetwater, Tenn.).
Laying down the second-fastest lap in his time trial group behind Mack McCarter, Winger locked into the third-starting position for the $4,053-to-win opener. He was credited with a 15th-place outing in the 40-lapper after getting wrecked by another competitor while battling for the lead late in the race.
On Thursday afternoon at Senoia Raceway (Senoia, Ga.), Ashton followed up the seventh-fastest lap in his time trial group with a third-place finish in his B-Main. With $4,053 on the line in the feature, Winger gained one spot to cross the line in 13th.
Back to News